The most economical type of mattress
One of the most well established spring styles
Extremely variable choices in size, depth and aesthetics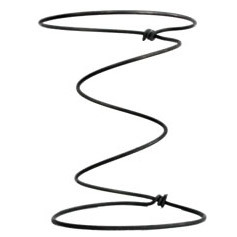 What is Open Coil?
Open coil mattresses use one of the most long-standing methods of construction.
Most people have slept on an open coil mattress at some point in their lives, and they are still some of the most widely-available mattresses on the market. Their construction means that they provide the support you need, whilst leaving plenty of room for a variety of fillings that help to provide you with comfort as well as support.
The fairly simple construction of the open coil mattress means that it is one of the most cost-effective mattresses on the market. If you are looking for a budget mattress, you will find a range of open coil mattresses that are both comfortable and affordable.
Open coil springs are usually about 5-6 coils high. A standard double bed has 325 of these coils, although some manufacturers may use more and, of course, the coil count increases as the mattress size rises to king and super king. The coils are all assembled into a single construction with helical wire. This is a thinner, spiral wire that joins the coils at top and bottom to form several rows. An outer rod is then fitted around the top and bottom of the finished construction to provide additional strength. Once the basic construction is completed, the mattress can be filled and the ticking applied.